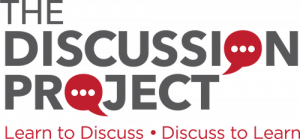 Who should apply?
Faculty, academic teaching staff, and teaching assistants at UW-Madison are encouraged to apply for The Discussion Project. We select participants with the aim of creating a group that is diverse along a variety of factors. There are a limited number of seats for teaching assistants but we welcome applications. 
Compensation/Study Requirements
Discussion Project participants will receive either a $300 or $500 research participant payment for completing all study requirements:
– Attending all training sessions
– Completing the participant surveys
– Distributing the student survey link
– Participating in at least 6 hours of instructional consultation (for the $500 payment)
Application
Dates for 2020-21 Discussion Project Trainings 
Cohort
Day 1

8:30am-4:30pm 

Day 2

8:30am-4:30pm 

Day 3

8:30am-12:30pm

1
Mon, 8/10/20
Tues, 8/11/20
Fri, 9/25/20
2
Thurs, 8/13/20
Fri, 8/14/20
Fri, 10/2/20
3
Mon, 8/17/20
Tues, 8/18/20
Fri, 10/16/20
4
Thurs, 1/7/21
Fri, 1/8/21
Fri, 2/12/21
5
Mon, 1/11/21
Tues, 1/12/21
Fri, 2/19/21
6
Thurs, 1/14/21
Fri, 1/15/21
Fri, 2/26/21
All trainings will be held in the Education Building, Wisconsin Idea Room (Room 159)
"The Discussion Project has provided me with an incredible set of resources and has changed a lot about how I lead discussions.… Now I have more tools to plan, scaffold, and conduct discussions."  – Spring 2019 Discussion Project Participant
Instructors often assume that college students already know how to engage in classroom discussion.
In fact, a review of the relevant research shows that…
Students often don't understand what is expected of them during discussion.
Students do not know how to focus their reading for discussion.
Students hesitate to discuss when the classroom climate is too contentious or too cordial. Setting the right tone matters.
Both students and instructors underestimate how much preparation is required to participate in discussion.