The aim of this professional development series is to strengthen our campus-wide capacity to create welcoming, engaging, and academically rigorous classroom environments in which students experience productive classroom discussions on important issues and topics.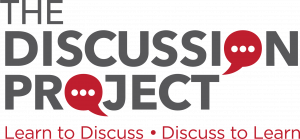 Our Mission
Engaging discussions are one of the most rewarding and memorable activities that students and faculty alike can experience in the classroom. Recent research shows that classroom discussion deepens learning, creates community, and helps students form an academic identity.
At the same time, classroom discussion is a challenging pedagogical undertaking. It requires the instructor to orchestrate learning among a group of students who likely do not know each other, come from a diversity of backgrounds, possess a range of political commitments, arrive with varying levels of familiarity with the course material, and have different levels of comfort speaking in class.
Inviting students to discuss also comes with some risk because we don't know what students are going to say. That unknown means that the instructor will have to be ready to follow one student's interesting and unexpected line of thought, correct another's misunderstanding about the material, and also be prepared to respond to any number of possibly off-topic, inappropriate, hostile, or naïve comments.
To address these promises and challenges, the School of Education has designed a professional development program for UW faculty and teaching staff. See the Program Overview page for more details.
Who should apply to The Discussion Project Virtual trainings?
The training is open to any university instructor who is the primary instructor for an online course in fall semester 2020 in which you plan to run both asynchronous and synchronous (video conference) discussions.
Graduate Student Teaching Assistants will

only

be considered if they are the primary instructor for a course (not a discussion section instructor).
We will limit the training to two cohorts of 25 participants.
Application
The application for The Discussion Project Virtual early fall cohort will open soon! Please continue to check our website. The dates for our summer 2020 program are listed below.
The Discussion Project Virtual (2020-2021)
Cohort
Day 1

1:00pm – 3:00pm

Day 2

1:00pm – 3:00pm

Day 3

1:00pm – 3:00pm

Day 4

1:00pm – 3:00pm

Day 5

1:00pm – 3:00pm

1
Mon, 7/20/20
Wed, 7/22/20
Fri, 7/24/20
Mon, 7/27/20
Wed, 7/29/20
2
Tues, 7/21/20
Tues, 7/28/20
Tues, 8/4/20
Tues, 8/11/20
Tues, 8/18/20
All trainings will be held online in BBCollaborate Ultra, accessible via Canvas. 
Who should apply to The Discussion Project in-person trainings?
We accept applications from faculty, teaching staff, and teaching assistants who are teaching a course at UW-Madison the during  the semester for which they apply.
Applicants should be teaching a face-to-face course with fewer than 50 students in the semester immediately following the first two days of training.
In order to be eligible, applicants must be available to attend both full-day sessions and one half-day mid-semester session.
Please note that the application is not on a first-come-first-served basis and that we have limited availability for teaching assistants. For the purposes of our study, we will be constructing cohorts based on a number of factors. We will contact you as soon as we can to confirm participation. We will aim to notify participants 6 weeks in advance of the training for which they are confirmed.
Application
We develop cohorts on a rolling basis. See our Apply page for the spring 2021 program.
*PLEASE NOTE: Because of public health concerns, we are not running in-person trainings during fall 2020. We hope to resume our in-person trainings beginning January 2021. If we are unable because of COVID-19, we will again offer The Discussion Project Virtual, an online training for designing and implementing high-quality online discussions. Stay tuned!
The Discussion Project Trainings (2020-2021)
Cohort
Day 1

8:30am – 4:30pm

Day 2

8:30am – 4:30pm

Day 3

8:30am – 12:30pm

1
Thurs, 1/7/21
Fri, 1/8/21
Fri, 2/12/21
2
Mon, 1/11/21
Tues, 1/12/21
Fri, 2/19/21
3
Thurs, 1/14/21
Fri, 1/15/21
Fri, 2/26/21
All trainings will be held in the Education Building, Wisconsin Idea Room (Room 159)
Media Highlights

"The Discussion Project was, by far, the best teaching workshop I've experienced. Not only did we receive new tools for facilitating discussion, we also got practice using them. The workshop was especially helpful for learning how to hold discussions on controversial political and ethical issues, how and when to share my own views as an instructor, and how to create the right mix of comfort and discomfort in the classroom."
– Andy D., Department of Geography