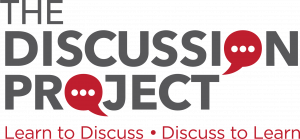 "I learned useful discussion strategies that I can use for the entirety of my career."
– TA, Wisconsin School of Business
"I wanted to … underline how much I enjoyed and benefited from the Discussion Project … I feel like it's been a coming home of sorts – giving me permission to teach responsively and effectively by purposefully designing classes to support student-centered discussion."
– Gail P., Department of Curriculum & Instruction
The Discussion Project Virtual (online): APPLY HERE
The Discussion Project Virtual is not currently part of a research study.
Dates for fall 2022


2022.09A: Tuesdays, 9am-11am: 9/13, 9/20, 9/27, 10/4, 10/11, 10/18, 10/25
2022.09B: Fridays, 10am-12pm: 9/16, 9/23, 9/30, 10/7, 10/14, 10/21, 10/ 28
Who should apply to the Discussion Project Virtual online course?
We accept applications from any university instructor (faculty, academic staff, TA).

The course is most applicable to those teaching  online classes with fewer than 40 students.

In order to be eligible, applicants must be available to attend all sessions.
Overview
Participants will meet online in seven 2-hour synchronous sessions on Zoom. Each session is preceded by one hour of asynchronous preparatory work in Canvas.
The Discussion Project Virtual is an online course for designing and implementing equitable, inclusive, and engaging online (rather than in-person) discussion.  The course focuses entirely on synchronous video conference discussion (online discussion via Zoom or another video conference platform) thus many skills are applicable to the in-person classroom.
Please see below for the learning objectives and topics that will be covered during the Discussion Project program.
If you are not affiliated with the University of Wisconsin-Madison, and would like to take the Discussion Project course, please visit this website where individuals and institutions may register for a course series.
The Discussion Project Virtual online course will help university instructors…
understand how the characteristics of online communication affect discussion and classroom climate and account for these in their discussion plans
take responsibility for creating an equitable and inclusive classroom climate conducive to high quality discussion by implementing strategies that engage all students
distinguish between discussion and other forms of student talk/interaction
learn how to structure online discussion
effectively plan, implement, and reflect on discussion plans
understand the purposes of assessment in and for discussion
implement strategies that develop students' discussion skills
Modules of Instruction
Building Online Community
Defining Discussion
Structuring Discussion & Crafting Questions
Whole Class Facilitation
Discussion Plans & Assessment
Planning a Discussion
Maintaining Community