The Program Basics
Participants will meet virtually in five synchronous sessions in BBCollaborate Ultra. Each session is preceded by one hour of asynchronous preparatory work.
All participants will have access to free instructional consultations with The Discussion Project staff during or after the virtual training.
The Discussion Project Virtual is an online training for designing and implementing equitable, inclusive, and engaging online (rather than in-person) discussion.
For those who have taken The Discussion Project in the past, you will find some material to be similar, though every principle or activity addresses the challenges and affordances of discussion in the online environment.
The Discussion Project Virtual is an online training that supports instructors in creating the conditions for equitable, inclusive, and engaging online discussions. Our spring 2020 research based on 1,164 surveys & 92 interviews of UW-Madison students indicates that they greatly value high-quality online discussion: It helps keep students engaged in learning. We are excited to offer this new training to support UW-Madison instructors in their important work to improve online discussion! Please see below for the topics that will be covered during The Discussion Project program. Click here to visit our Apply page.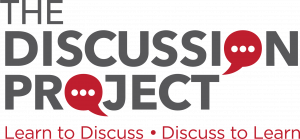 "I learned useful discussion strategies that I can use for the entirety of my career."
– TA, Wisconsin School of Business
"I wanted to … underline how much I enjoyed and benefited from The Discussion Project … I feel like it's been a coming home of sorts – giving me permission to teach responsively and effectively by purposefully designing classes to support student-centered discussion."
– Gail P., Department of Curriculum & Instruction
The Discussion Project Virtual training will help university instructors…
understand how the characteristics of online communication affect discussion and classroom climate and account for these in their discussion plans;
take responsibility for creating an equitable and inclusive classroom climate conducive to high quality discussion by implementing strategies that engage all students;
distinguish between discussion and other forms of student talk/interaction and articulate the benefits of discussion for student learning;
identify the relative advantages of different ways of structuring discussion and match discussion types to specific learning objectives; and
effectively plan, implement, and reflect on classroom discussions.
implement strategies that develop students' discussion skills.
The Discussion Project Virtual is intended to help university instructors improve online discussion; it is not an online version of our in-person training. This page will be updated as our virtual program develops.