The Program Basics
Participants will meet for two-and-a-half-days for training.
Participants will receive $500 for completing all elements in our study: attending training sessions, completing participant surveys, and administering student surveys.
Participants will have access to the Grouping Tool and have the option to receive feedback classroom practice from an instructional coach.
Currently funded by the Andrew W. Mellon Foundation and the Karen A. Falk Distinguished Chair of Education Fund, The Discussion Project is undergoing a large, mixed-methods study. We will offer six cohorts each year in 2019-20 and 2010-21.
The Discussion Project draws upon the most recent research on classroom discussions in higher education to identify effective facilitation strategies. We have designed the program around these practices and scaffolded the learning so the participants move from basic, low-risk strategies to more complex strategies. Please see below for the topics that will be covered during The Discussion Project program.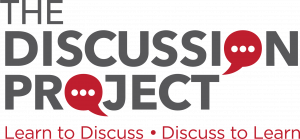 "I learned useful discussion strategies that I can use for the entirety of my career."
– TA, Wisconsin School of Business
"I wanted to … underline how much I enjoyed and benefited from The Discussion Project … I feel like it's been a coming home of sorts – giving me permission to teach responsively and effectively by purposefully designing classes to support student-centered discussion."
– Gail P., Department of Curriculum & Instruction
Getting Students Talking
Participants will be able to 1) identify discussable topics that can be included in their courses and 2) learn strategies to use in the first few weeks of the course that create an inviting climate for discussion. To that end, we will examine what it means to build an inclusive and academically challenging classroom environment for all students that also honors and expects differences of opinion; explore why it is important to do so; and teach research-based strategies for creating such a climate. We will also introduce a set of tools that participants can use to learn about their students' attitudes toward discussion and the course material. For example, one tool will include a web survey that students will take to self-assess their discussion skills, share their experience with discussion, and identify dimensions of diversity that could be leveraged as deliberative assets. Participants will be expected to spend some time out of class thinking about their first class of the semester and how they might apply some of these strategies.
Structuring Small-Group Discussions
While covering this topic, we will use concept-formation activities that help faculty distinguish what is discussion compared to other forms of classroom talk. After exploring what research teaches us about what students learn from discussion, and how Universal Design for Learning should undergird lesson development, we will introduce participants to different forms of small group discussion—aligned with different pedagogical goals. Participants will learn a set of paired and small group discussion strategies that 1) model how to use grouping tools and 2) can easily be used in any course. Participants will be required to try at least one of these in the first two weeks of the semester, and their efforts will be discussed later in the program.
Structuring and Facilitating Whole-Class Discussions
Building on the prior work, we will consider the purposes of large-group discussion. Participants will learn strategies for preparing students for large discussions and for framing discussion questions. During this part of the program, participants will engage in two types of large-group discussions, each of which models a different discussion structure. Participants will try to incorporate one strategy into their course.
Part of the program will include classroom coaching on facilitation. We will draw upon coaching sessions to discuss common challenges encountered during facilitation. We will use role-play and/or video when appropriate.
Professional Dilemmas and the Ethics of Discussion
When instructors decide to use classroom discussion, they will necessarily confront a set of professional dilemmas. These include:
Should I share my own views about the question being discussed?
Should racially charged topics be included in a class with one or two students of color?
Should students be required to participate in class discussion?
How should I respond to a student who talks too much?
We will model case study discussion strategies as a way to help participants think about these common discussion dilemmas. And we will practice a protocol for discussion of controversial issues that aids in fostering inclusion and full participation.
Assessing Discussion Participation
In this final session, participants will learn different strategies for giving feedback on discussion skills (for individuals and groups). Participants will also be introduced to ways in which discussion can be used as part of a course grade.  We will also consider ways of receiving mid-term student feedback.
Instructional Coaching
An instructional coach will be available to all participants during the semester they are in The Discussion Project workshops, and after. The coach is an important resource to help instructors enhance the discussion in their classes. Coaching resources include observations, lesson planning, troubleshooting, and talking out dilemmas in facilitating discussion.