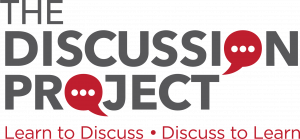 The Discussion Project (in-person) APPLY HERE
Our next Discussion Project in-person series will run in August 2022 and January 2023.  Please click here to apply and to see more details about specific dates.
"I learned useful discussion strategies that I can use for the entirety of my career."
– TA, Wisconsin School of Business
"I wanted to … underline how much I enjoyed and benefited from the Discussion Project … I feel like it's been a coming home of sorts – giving me permission to teach responsively and effectively by purposefully designing classes to support student-centered discussion."
– Gail P., Department of Curriculum & Instruction
Invitation to Instructors
We are inviting you to participate in the Discussion Project Measures Study for the 2022–23 academic year. The Discussion Project is research study and a three-day professional learning opportunity for UW–Madison instructors, focused on developing skills in leading high-quality small- and large-group discussion in undergraduate and graduate classrooms.
Course dates (8:30am-4:30pm)
-August 22, 23, 24 or August 25, 26, 29
-January 12, 13, 17 or January 18, 19, 20
In order to be eligible, applicants must be available to attend all full-day sessions and be teaching in-person courses of no more than 40 students both fall and spring semester in 2022-23.
The course will be held in-person on the UW-Madison campus.
About This Research Study
The goal of the Discussion Project Measures Study is to develop new tools to describe classroom discussion and instructional practice. Research participants will:
Take part in the Discussion Project course, either in August or January,
Complete surveys about their instruction,
Provide survey links to their students at the beginning and end of the Fall and Spring semesters, and
Allow a trained observer to visit their classrooms on three occasions each semester.
Participants will be assigned to either an August or January Discussion Project cohort after enrollment in the research study, so interested instructors should be available for both the August and January dates (until their final cohort has been confirmed). Research participant payments ($250 per semester) will be processed in January and June for participants who complete the study requirements.
This research study is being conducted by Principal Investigator Diana Hess <dhess@wisc.edu> and Co-Principal Investigator Michael J. Culbertson <mculbertson@wisc.edu>. The Discussion Project Program Director is Lynn Glueck <lrglueck@wisc.edu>.
The Discussion Project draws upon the most recent research on classroom discussions in higher education to identify effective facilitation strategies. We have designed the program around these practices and scaffolded the learning so the participants move from basic, low-risk strategies to more complex strategies.
Please see below for the topics and learning objectives that will be covered during the Discussion Project program. 
If you are not affiliated with the University of Wisconsin-Madison, and would like to take the Discussion Project course, please visit this website where individuals and institutions may register for a course series.
Modules / Topics
Building Community
Defining Discussion
Facilitating Whole Group Interactions
Structuring Discussion & Crafting Questions
Planning & Assessing Discussion
Critiquing Discussion Plans
Maintaining Community
Learning Objectives
Instructors will…
Create an equitable and inclusive classroom climate conducive to high quality discussion.
Distinguish between discussion and other forms of student talk.
Learn different ways to structure and facilitate discussion.
Learn to craft questions that foster discussion.
Design, implement, and reflect on plans for discussion.
Implement strategies that develop students' discussion skills.
Understand the purposes and methods of assessment for improving discussion skills.