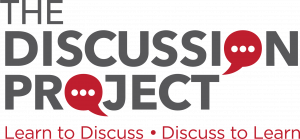 "I learned useful discussion strategies that I can use for the entirety of my career."
– TA, Wisconsin School of Business
"I wanted to … underline how much I enjoyed and benefited from The Discussion Project … I feel like it's been a coming home of sorts – giving me permission to teach responsively and effectively by purposefully designing classes to support student-centered discussion."
– Gail P., Department of Curriculum & Instruction
Overview
The course is three full days , 8:30am-4:30pm.
The course will be held in-person at UW-Madison in the School of Education Building, presuming Covid guidelines allow. The Discussion Project will follow all university Covid guidelines.
Participants may opt into to complete 8 hours of instructional consultation, including non-evaluative classroom observations and feedback.
Participants will have access to the Grouping Tool.
Currently funded by the Andrew W. Mellon Foundation and the Karen A. Falk Distinguished Chair of Education Fund, The Discussion Project is undergoing a large, mixed-methods study.
The Discussion Project draws upon the most recent research on classroom discussions in higher education to identify effective facilitation strategies. We have designed the program around these practices and scaffolded the learning so the participants move from basic, low-risk strategies to more complex strategies. Please see below for the topics and learning objectives that will be covered during The Discussion Project program. 
Click here to visit our application page.
Our next in-person sessions will occur in January 2022.
Modules / Topics
Building Community
Defining Discussion
Facilitating Whole Group Interactions
Structuring Discussion & Crafting Questions
Planning & Assessing Discussion
Critiquing Discussion Plans
Maintaining Community
Learning Objectives
Instructors will…
Create an equitable and inclusive classroom climate conducive to high quality discussion.
Distinguish between discussion and other forms of student talk.
Learn different ways to structure and facilitate discussion.
Learn to craft questions that foster discussion.
Design, implement, and reflect on plans for discussion.
Implement strategies that develop students' discussion skills.

Understand the purposes and methods of assessment for improving discussion skills.